Download the 10 golden rules to create an effective CV
Fine-tune your cv with these 10 golden insights to make an impact on today's hiring managers
In a digitalized era, the traditional CV you have been using for the past 10 years won't help you become noticed by recruiters and HR Managers.
If you want your CV to get the attention it deserves in a highly competitive market, you need to elevate your personal brand to position you in a professional light. By doing so, you are offering an authentic story about your unique experience from beyond the mere paper and create a digital handshake. 
Let's craft a remarkable personal brand and take charge of your career!'
PASSION in everything we do
EMPATHY we care about you
GROWTH we achieve more when we collaborate and co-create
INTEGRITY we built trust through authentic relationships
EMPOWER each other to take ownership and self-develop
Our mission is to cultivate individuals' inner talent to enhance their well being and performance at work by being emotionally balanced and doing more of what really matters.
We enable inner transformation in individuals by enabling them to take charge, communicate confidently their essence value, and achieve excellence.
We support organizations in building an inclusive coaching culture that fosters authenticity, self-awareness, and an environment of excellence through Advanced TalentTM.
We ignite individuals' talent, passion,and potential so that they become dedicated and engaging leaders.
Our vision is to improve the life of 1000 people every year by catalysing their inner potential to take charge and lead a fulfilled life. We accelerate their development and support them to adapt to the changing trends, co-create and grow within a multi cultural setting.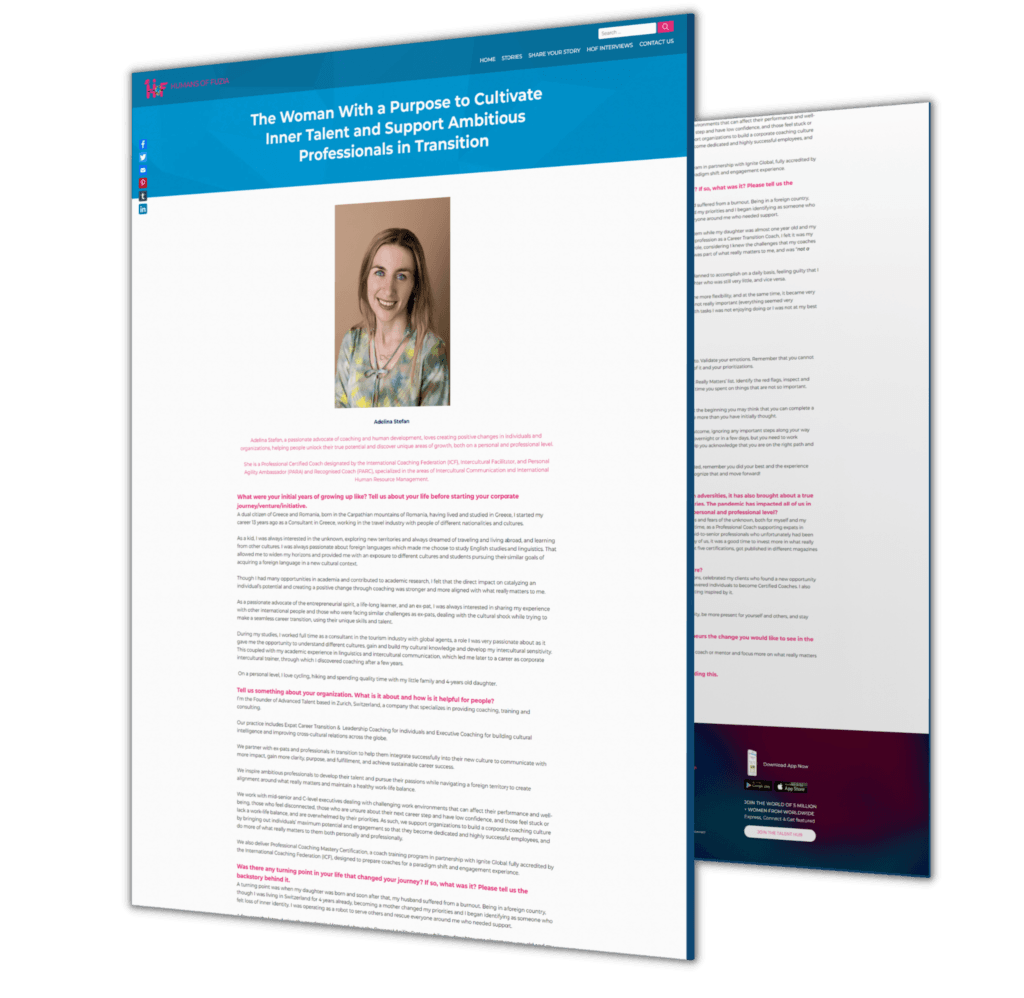 Adelina is an excellent coach, she has been very supportive and has given me great support, both in terms of being somebody who can act as a great sounding board for my ideas and in terms of giving me some further ideas and areas on which to build.  Her experience and insight in this area is a fantastic resource for me.   She has also pointed me towards some of your different resources depending on discussion and what was happening in that specific week (eg interviewing practice, articles, personality traits etc), which have also been useful.   Finally she has given me some fantastic feedback on my CV/CL, Linkedin profile and interviewing technique, which has been massively helpful in getting my materials up to a great standard.
Michael B., Vice President, Switzerland
Adelina's insights and encouragement throughout the ups and downs of the job 'hunt' have been invaluable. I am a seasoned veteran of job hunting and have developed new contacts prior to my move to EMEA which has helped tremendously. Even with my experience she has still found insights to share. Adelina was able to recognize my experience and jumped directly to the advanced components of securing a position.
Amos G., Sales Engineer, Sweden
Great coach with a lot of experience and a very good feeling for people.
Adelina was recommended to me by an expat community – and I can only pass on that recommendation!I told her my concerns and needs and she read everything very attentively. She reacted very personally and efficient to my needs. I was really amazed at how well she saw my personality, strenghts and direction only from reading my documents. For each coaching session she was extremely well prepared, she provided me with the right type of coaching and additionally with very helpful documents and information, showing me that she has a lot of experience and knowledge in the HR sector. She helped me exactly with the things I needed help with.
Thanks to her I felt confident and sure about myself, my competences and what I want.
I have experienced Adelina as a great coach with an amazing talent for getting «the core» of a person and seeing in what matter someone needs which type of help. Thank you for helping me get the clarity and confidence I needed!
Heidi G., Marketing & Community Manager, Switzerland